The right combination - By Tariq Engineer | Mirror
Posted on - 10 Feb 2018
A serendipitous union changed the lives of the jockey, horse and trainer who won the 2018 Indian Derby
By Tariq Engineer | Mirror

F

or most of the racing world, Rochester's victory in the Indian Derby last Sunday at the Mahalaxmi Race Course was a big surprise. The fouryear-old bay colt faced long odds of 15 to 1, but down the stretch swept past Lady in Lace, one of the prerace favourites, just as the commentator was anointing the filly "a horse of a lifetime". But for Rochester's trainer, Sheraz Sunderji, this was no upset. He'd seen Rochester triumph over greater odds. What's fighting to win a race when you have already fought to live?
Two years ago, while in Pune, Rochester developed a severe case of colic (a catchall term for abdominal pain). Though he responded to treatment initially, he relapsed and became bloated and 'impacted' (the term refers to a blockage within the horse's gastrointestinal tract) and had to be rushed to hospital, where veterinarian Dr Anil Kumar performed an emergency surgery. Rochester's belly was cut open in less than ideal conditions because a fully sterilised operating theatre was not available. After something of a struggle, Dr Kumar was able to pull out Rochester's intestines and flush out the toxic waste that had accumulated in the horse's gut. This material splashed across the floor, and was so lethal that Sunderji's wife, Irene, who was in the room, was ill for a month afterwards.
The surgery took almost four hours and by the time Kumar had stitched up Rochester, it was well past midnight. Then, at 6 am that morning, Irene got a surprising call. Rochester was back on his feet. "He had the heart to live," Sunderji, 57, told us when we met him at his stables at the racecourse on Thursday evening. "I knew then that he was not a quitter."
It took two months of recuperation before Rochester could start training and Sunderji did not plan to race him that season. But Rochester improved with each workout and less than a year later, he was on the track. At that point, Sunderji thought he had a horse that "could make a dent" in the Classics, the five races that parallel the original British classic races.
The right man for the job
But Rochester had a disappointing first season in Mumbai, failing to win any of the three races he had entered. He moved to Pune for their season still a maiden horse (an unflattering title — horses participating in a 'maiden race' are usually those that have never won a race). Rochester lost his first race there too. Despite that, Sunderji decided to enter him for the FD Wadia Trophy, pitting him against winners.
This is where fate stepped in. None of Rochester's regular jockeys were available, so Sunderji had to look for a replacement. Enter CS Jodha, better known as Chotu. Originally from Rajasthan, the 29-year-old Jodha had followed his elder brother into racing while still a teenager. He earned his riding license in 2005-06 and had ridden for Sunderji during the 2007-08 season but was now a freelancer. Sunderji learned that Jodha was available and it didn't take long to see that rider and horse had something special.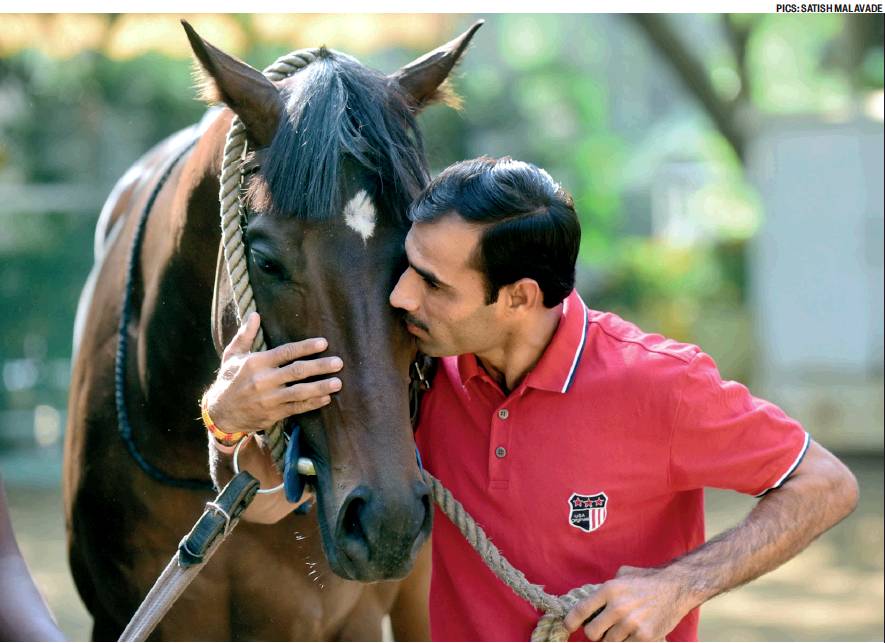 "Rochester seemed to enjoy [Jodha's] company," Sunderji says. The feeling was reciprocated. "The first time I sat on him in the paddock, I felt he had ability, that he had class," Jodha told us on Friday morning, while seated outside Sunderji's stables. "Then in the race, whenever I prompted him to go, automatically, he responded."
The duo won the F D Wadia Trophy in August 2017 Rochester's first victory and Sunderji was sold on the combination. Following the race, he asked Jodha to commit to riding Rochester in each of his races. For Jodha, it was a no-brainer. "In my career, I have ridden many good horses, but this is the first time I have ridden a horse with such a big heart," Jodha says.
The pair finished second in both the Pune Derby in October 2017 and the 2000 Guineas in January 2018, and then won the Ruia Gold Cup three weeks before the Derby. That last race bolstered Sunderji's confidence; he felt certain Rochester would be ready for the Derby. However, there was one last hurdle to overcome.
A suggestion was made to replace Jodha with a more accomplished jockey. Jodha, who is 5' 3" and weighs 49 kilos, has had a busy career he estimates that he has competed in over 600 races but had never won a Classic race. However, Sunderji was quick to shut down that proposition. "Jodha is an uncut diamond," he says, "I don't think any foreign jockey could have delivered the goods as well as this boy, because he knows the horse well."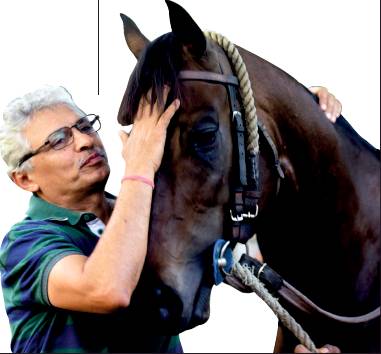 Sunderji has the calm demeanour of a college professor, accentuated by his silver hair and glasses. He has been training for three decades but had never won the Derby, coming closest in 2011, when his horse finished second. Over the years, he has learnt not to get too high or too low. Still, Sunderji found himself cheering for his horse down the straight. "Usually I don't shout for any of my winners because I really don't like it. But when I win a big race, the adrenaline sets in," he says. About 200m from the winning post, Sunderji turned to his owners and said, "We have won." Nobody paid him any attention they were busy cheering, as it was the first win for five of Rochester's six owners (Rochester is jointly ownedby Shapoorji Pallonji Shapoor Mistry, Akhtar Peerbhoy, Saba Peerbhoy, Pramoad Churi, Balkrishna Agarwal and Ajay Arora).
Around the 200m mark, Jodha had overtaken Lady in Lace and, with Rochester in full gallop, knew he had won too. "It was my good fortune that I got this horse," he says. "Whether I win or lose, I'm happy to ride him. In the future, no matter which horse I get, my first choice will be Rochester."
Please Comment Below