Rochester demolishes several reputations - By Usman Rangeela | Mirror
Posted on - 05 Feb 2018
Rochester demolishes several reputations
A dream come true Indian Derby victory for the colt's winning connections
By Usman Rangeela| Mirror

The number 666, known as the devil's number or the number of the beast, could be ominous for some but it proved lucky for Rochester, a four-year old bay colt, who registered a smashing victory in the Kingfisher Ultra Indian Derby here on Sunday.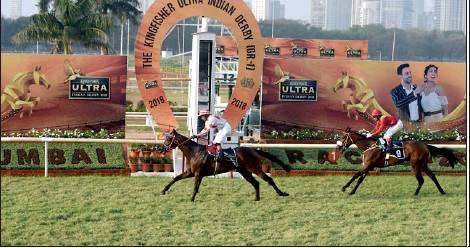 The Indian Derby was race number 6 in the day's card, the saddle cloth number of Rochester was 6 and he was drawn to start from stall number 6 in the starting gates. This trivia aside, Rochester not only shattered the myth that the progeny of his sire Phoenix Tower doesn't stay beyond the mile distance, he made several dreams come true with his fantastic victory.
It was the first ever Indian Derby winner for Akhtar Adamji Peerbhoy, Shapoor Mistry, Saba Peerbhoy, Pramod Gajanan Churi, Balkrishna Agarwal and Ajay K Arora, the lucky joint owners of Rochester. Trainer Sheraz Sunderji and jockey CS Jodha also won the biggest race of their individual careers and got their names inscribed on this prestigious event's roll of honour.
Peerbhoy, in whose colours Rochester ran, became a race-horse owner in 2010 when he bought a horse named The Saint after visiting trainer MK Jadhav's stable along with his brother. The other partners of Rochester, barring Mistry, also are small-time race-horse owners. Winning the Derby was a moment they will cherish for their lifetime.
Sparkling run
Daffodils from the yards of Pesi Shroff set a scorching pace over the mile-and half trip and called the shots till the heads turned for home and was overtaken by stable-mate Zenon for a brief while before Lady In Lace came with a big run. However, Rochester ranged alongside Lady In Lace and produced a brilliant turn of foot in the last furlong to hit the front in a trice and then leave his rivals gasping, literally.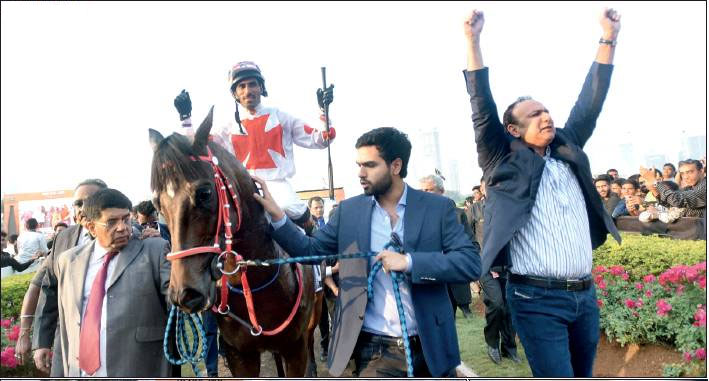 Lady In Lace took the runner-up spot, not a mean effort considering the fact she was running after recovering from a bad lung infection. Manifold and Prevalent Force ran on to complete the judge's board. Prevalent Force's performance was nowhere near the reputation with which he arrived for the first time at Mahalaxmi racecourse.
Labour of love
Rochester had cheated death in 2016 after suffering a severe colic attack and survived for this big moment after a life-saving surgery performed by Dr Anil Kumar, former chief veterinary officer of the equine hospital of Royal Western India Turf Club.
He won the FD Wadia Cup and, according to Sunderji, he was immature but improving with each run and peaked at the right time.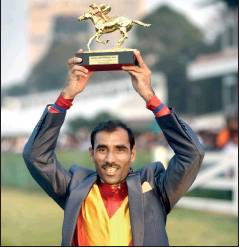 Sunderji had missed a chance to win this event in 1990 when he quit the game for a brief period in1989 after winning the Pune Derby with Desert Warrior, who went on to win the Indian Triple Crown next year under the care of Altaf Hussain. Sunderji later came close to win this event with Ocean and Beyond who came across a better one in owner-mate Moonlight Romance in 2011.
Having earned the reputation of being a hard-working trainer, Sheraz nursed Rochester with the help of his better half and former trainer, Irene Sunderji. Rochester didn't let down his master and brought his plans to fruition.
29-year-old CS Jodha's partnership with Rochester started with his maiden win and both never looked back. It's rare for a jockey of the calibre of Jodha, who started his career over a decade ago, to achieve an Indian Derby success when competing against illustrious riders, both Indian and foreign.
Although the horses that they fancied bit dust, the sporting crowd that gathered at the Mahalaxmi lawns to witness the iconic event gave a rapturous reception to Rochester and his connections when being led to the winner's enclosure.
Please Comment Below