Local volunteer leader elected Rotary Foundation trustee - By A Staff Reporter | Afternoon
Posted on - 14 Nov 2017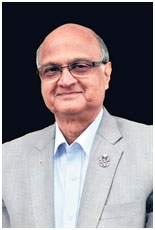 Rotarian Gulam A. Vahanvaty was elected by The Rotary International Board of Directors to serve as a trustee of The Rotary Foundation (TRF) for a four-year term beginning 1 July, 2018.

As a trustee, Rotarian Vahanvaty will oversee the management of The Rotary Foundation – the charitable arm of Rotary that funds humanitarian service projects and scholarships that improve lives, both close to home and around the world.

In India, Rotarian Vahanvaty is a Trustee of Public Concern For Governance Trust (PCGT) and Mohalla Committee Movement Trust. He is also a Managing Committee member of RWITC and Chairman of Stewards. Vahanvaty said, "I am truly privileged to serve as Trustee of The Rotary Foundation. I look forward to working with my fellow trustees, drawn from across the Rotary world, and continue TRF's policy of 'Doing Good in The World'."

Since its inception in 1917, TRF is a leading humanitarian foundation that has spent more than $3 billion to help countless people live better. Each year, The Rotary Foundation provides more than $200 million to end polio and support sustainable projects and scholarships that promote peace, fight disease, provide clean water and sanitation, support education, save mothers and children, and grow local economies.

Rotary's top humanitarian goal is to eradicate the paralyzing disease, polio. Rotary launched its polio immunization program PolioPlus in 1985, and in 1988 became a partner in the Global Polio Eradication Initiative, in collaboration with the World Health Organization, UNICEF, and the U.S. Centers for Disease Control and Prevention, which was later joined by the Bill & Melinda Gates Foundation. Since the initiative launched, the incidence of polio has plummeted by more than 99.9 percent, from about 350,000 cases a year to just 37 cases in 2016. Rotary has contributed a total of more than $1.7 billion - including matching funds from the Gates Foundation and countless volunteer hours to protect more than 2.5 billion children in 122 countries from polio.

The Rotary brings together a global network of volunteer leaders dedicated to tackling the world's most pressing humanitarian challenges. Rotary connects 1.2 million members of more than 35,000 Rotary clubs in over 200 countries and geographical areas. Their work improves lives at both the local and international levels, from helping families in need in their own communities to working towards a polio-free world.
Please Comment Below