Ruffina looks all set for Indian 1000 Guineas glory - By Shailendra Awasthi | TOI
Posted on - 22 Nov 2017
Ruffina looks all set for Indian 1000 Guineas glory
- By Shailendra Awasthi | TOI
Mumbai: Cyrus Poonawalla's face lit up after his three-year old filly Ruffina left her four rivals way behind on way to her fifth straight win last Sunday. For, the vaccine baron knew his young horse has it in her to win him the prestigious Indian 1000 Guineas crown. Almost everyone present at the Mahalaxmi Racecourse was convinced Ruffina can do what Her Excellency had done for 'His Excellency' of Indian racing 18-years ago.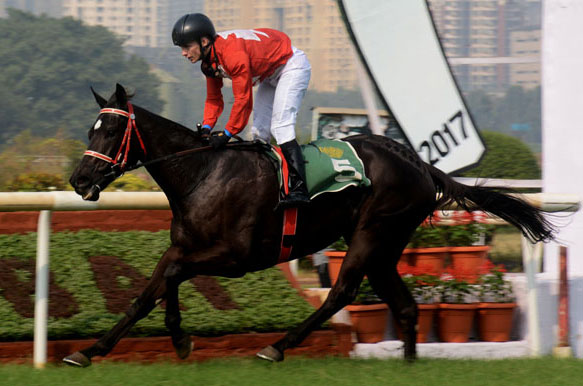 "I am extremely pleased by her performance," Poonawalla told TOI after Ruffina won the 1400 metres Rotary Club of Bombay Trophy, a race for top class horses, on the opening day of Mumbai Season 2017-18.
"The way she accelerated in the last part, it clearly shows she can easily stay the distance. I am highly optimistic she will win the 1000 Guineas," said Poonawalla, adding that if she wins the big race on December 10, he may even consider putting her against top male contenders in the Indian 2000 Guineas a week later. British jockey David Allan, who steered Ruffina, felt her manner of win was promising.
"She seems set for the big race," said the most successful foreign rider on Indian soil in recent years having won the Indian Derby back to back in 2016 (Desert God) and 2017 (Hall Of Famer) after winning it with Moonlight Romance in 2011.
Ruffina's master Dallas Todywalla, one of the finest trainers in the country, too felt his trainee's performance has given strong hint that she is set for the 1000 Guineas. "She appears in good touch and she will certainly have a bold show on December 10," Todywalla told TOI. Ruffina may be ready for the 1000 Guineas but her ability will be severely tested as she will have tough competition in the form of Pesi Shroff 's Manifold, the winner of Bangalore Summer Derby, and Pune Derby winner Lady In Lace apart from other good contenders.
Please Comment Below